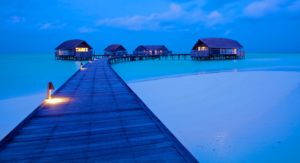 Overwater villas offer a one-of-a-kind escape. If you are looking for an ultimate vacation experience, plan your getaway with our top picks.
COMO Cocoa Island
Inspired by the Dhoni or local fishing boats, the eight split-level suites appear to be floating on the water. With luxurious interiors complete with amenities, and full-length glass doors and windows, basking in the Maldivian sunlight is not a problem with this resort.
Rosewood Mayakoba
Overwater villas usually reminds Maldives. But the Rosewood Mayakoba in Mexico can change that perception. Located in a hidden area, this Mexican jewel exudes calmness, natural luxury and accommodations worth drooling over.
Built over gleaming lagoons, the suites like the entirety of the resort were built with the preservation of the natural surroundings in mind and the use of indigenous construction materials.
Las Lagunas Boutique Hotel
Built in the middle of a 300-acre private reserve, Las Lagunas Boutique Hotel exudes unspoiled beauty. Eco-friendly casitas are built with decks overlooking The Quexil Lagoon and the Petén jungle. Relax in your own outside Jacuzzi while sipping a glass of Château Defay after a day outdoor adventure.
Song Saa Private Island, Koh Ouen and Koh Bong
Song Saa Private Island attracts honeymooners and nature-lovers alike with its eco-conscious design. Set in a pristine wilderness, each villa was constructed with reclaimed and upcycled materials and local artefacts. Each villa also comes with 200 square meters of your own personal waterfront space.
Constance Prince Maurice
A tropical hideaway located in Poste de Flacq with luxurious suites perched on stilts over the water that offer air-conditioning and stunning Indian Ocean views. Honeymooners will have a truly memorable time with activities like sunset cruises, wine tastings, and couple massages.
Laucala Island Resort
This island is an extremely popular romantic getaway. The romantically remote setting of Laucala Island Resort creates a perfect setting for some private time post-wedding. Also, the crystalline waters and volcanic mountains add an unparalleled attraction.